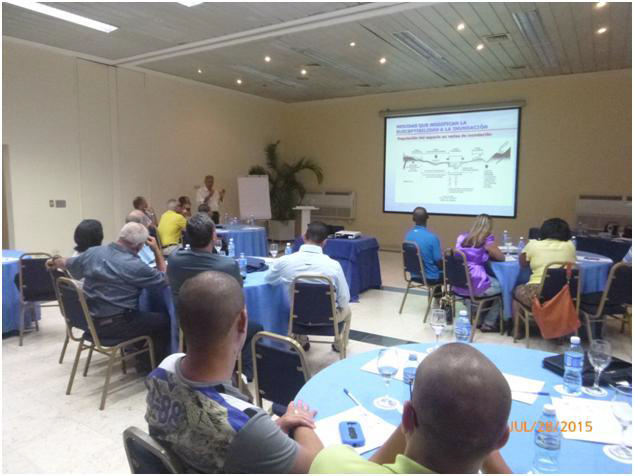 From 28 to 31 July 2015 the APFM performed a training course on Integrated Flood Management (IFM) in La Havana, Cuba. By allowing participants to familiarize with the concept of IFM, the workshop had the objective of preparing local experts to implement this approach in their field of work.
Since the preliminary organizational phase, cooperation and networking have been the key elements for the success of the initiative. Not only was it conducted within the framework of the Latin American Network of Knowledge Centers in the Water Sector (RALCEA) at the request of National Institute of Hydraulic Resources (INRH). It also relied on the active involvement of important regional partners, such as the Faculty of Engineering and Water Sciences (FICH) of the Universidad Nacional del Litoral (UNL) of Santa Fe (Argentina) representing the National Water Institute (INA) of Argentina, the Hydraulic Research Centre (CIH) of La Havana (Cuba), the Latin American Network of Capacity Building for Integrated Water Management (La-WETnet), and the International Network for Capacity Development in Sustainable Water Management (Cap-Net).
Twenty-one professionals working in the areas of water resources management, disaster management, land-use planning, and civil protection coming mostly from national and provincial institutions attended the training. A great appreciation for the content of the course was expressed by all participants, who found the subjects analysed relevant and applicable to their daily tasks. Moreover, considering the lack of information transfer, institutional knowledge and coordination highlighted by some of the experts, the presentation of local case studies and group work was very useful to better understand the work carried on by other departments and agencies and to reinforce linkages among them.
As concluded by the participants, the way forward is now to work together to adopt a global vision that could integrate social, environmental, economic aspects of flood management together with the technical ones through real inter-institutional coordination.