The Caribbean region is highly exposed to multiple hazards, in particular of a hydrometeorological nature, such as hurricanes and tropical storms, floods, landslides, and storm surges. Every year, the region suffers over $1.6 billion in average direct natural hazard-triggered disaster damages (World Bank 2018). 
The three and a half-year project "Strengthening Hydro-Meteorological and Early Warning Services in the Caribbean" implemented activities both on regional and national-level with the overall goal to strengthen hydro-meteorological services and Early Warning Services (EWS) across the Caribbean region. The project ended in June 2023 and was implemented by the World Bank Global Facility for Disaster Reduction and Recovery (GFDRR), the World Meteorological Organization (WMO) and the United Nations Office for Disaster Risk Reduction (UNDRR).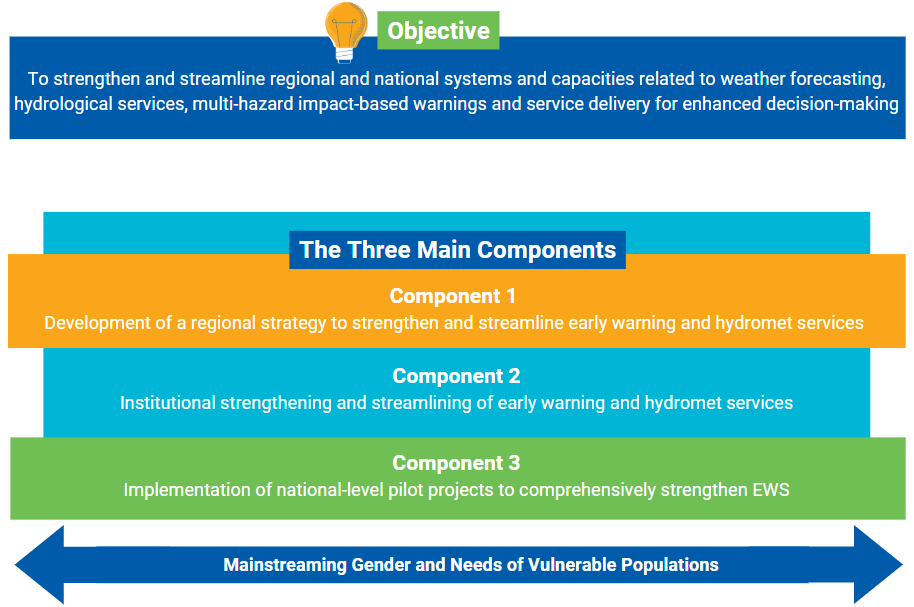 Community Based Flood Management Activties implemented in the Caribbean

Under the umbrella of this project, early action and preparedness has been strengthened through Community-Based Flood Management Activities (CBFM) in Trinidad and Tobago as well as Antigua and Barbuda. 
WMO, in close collaboration with the Trinidad & Tobago Red Cross Society, the Trinidad and Tobago Meteorological Service (TTMS), the Caribbean Meteorological Organization (CMO), the Trinidad and Tobago Water Resources Agency and the Trinidad and Tobago Office for Disaster Preparedness and Management implemented several activities to enhance capacity and preparedness with regards to flood management in the flood prone community of Sangre Grande in May 2023. 
1. Training workshop built knowledge and awareness on Flood Management
A one day workshop, held in the community center in Sange Grande transferred knowledge in flood management and functioned as platform to exchange on preventive measures between community members and relevant authorities, assess the current status of available resources as well as assets and define measures for improvement. The activity increased the understanding of challenges faced by the community, identified responsible stakeholders involved, and created transparency as to actions to be taken in emergency situations.
2. Flood Marking Activity
In the most vulnerable locations of this community, under guidance from the involved authorities, community members installed flood markers on residential houses. Through these markers, community members are now able to identify a safe location for the storage of valuable goods or to find  shelter and evacuation locations in a flood situation. Further, these markers show the height newly built houses should be elevated to in order to avoid flooding. Through interactions with the community members, this activity also collected data as to previous flood events and their impacts.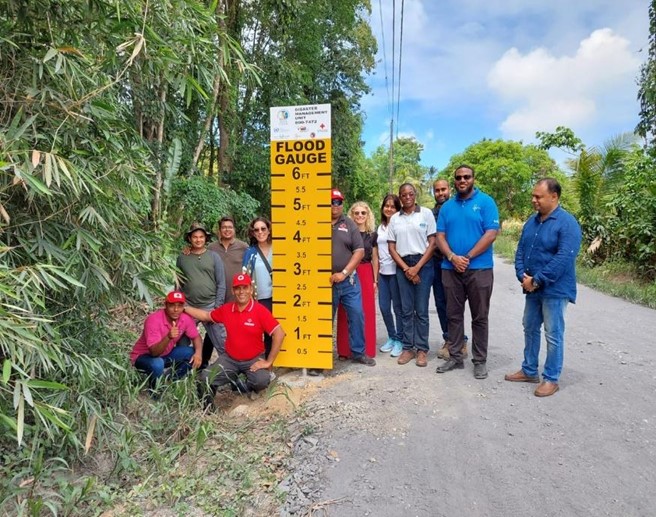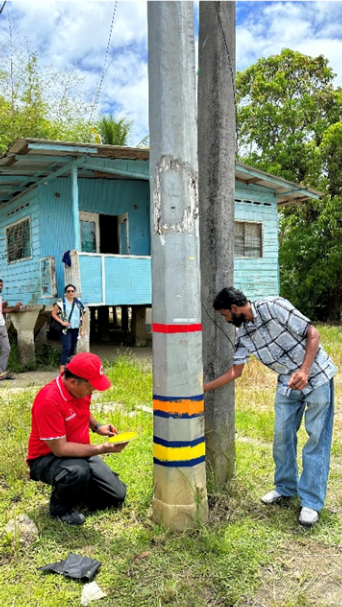 Between May 2022 and June 2023, a series of activities aimed at improving preparedness, knowledge, and collaboration with regards to flood management on community level have been implemented under the leadership of the National Office of Disaster Services (NODS) of Antigua and Barbuda. The activities targeted four of the most flood prone communities in the country.
1.Training workshop brought key stakeholders together and increased knowledge and awareness on Flood Management
A one-day workshop informed community leaders and relevant national agencies on the role of NODS, on flood management in general, discussed early action and offered a platform for exchange.
2. First responding capacities strengthened through first-aid trainings and provision of first-aid kits
NODS volunteers from various communities and representatives from different agencies were trained in basic first aid through a facilitator from the Antigua and Barbuda Red Cross increasing their response capabilities. The workshop covered pre-care assessment, CPR for adults and infants, response to choking, and bleeding control. First aid kits were distributed to district volunteers which now will strengthen first responder capabilities.
3. Vulnerable housing lists updated
Volunteers from four communities collected data on households that are vulnerable to flooding and other hazards using the "Kobo Toolkit". Vulnerability maps were generated, which enable actors in disaster management in a crisis situation to identify most vulnerable houses immediately.
4. Installation of residential houses wall markings
Signs indicating the water level of the last major flood event in Antigua in November 2020 were manufactured and distributed to residents in the four communities of St. Mary's North, St. Mary's South, St. John's City East and St. John's Rural West. The activity was combined with a short training on how to interpret the water markers. Through making water levels easily visible, community members are enabled to better assess the flooding situation and to take preventive actions if necessary.
5. Training drills and simulation exercises in three selected communities
NODS held a training drill and flood simulation exercises with volunteers from several disaster districts. The exercises not only trained adequate behavior in risk situations, it also educated participants about actions they can take themselves to reduce flooding and its impacts – e.g. littering in drains or gutters or elevating belongings in the house.
6. Regional training workshop on gender mainstreaming in end-to-end early warning system for flood forecasting and integrated flood risk management
A four-day regional workshop emphasized the importance of addressing the impact of floods on vulnerable groups such as women, girls, elderly and the physically challenged. The workshop built a harmonized understanding among participants of key concepts related to early warning, flood management and gender, it provided a platform to exchange and deepen participant's understanding of the common gender dimensions of floods and flood management processes and it strengthened capacity of participants with regards to gender considerations in planning, programming, budgeting, monitoring and evaluation processes.
For more information : Regional training Workshop on Gender Mainstreaming in End-to-End Early Warning Systems for Flood Forecasting and Integrated Flood Risk Management in Antigua – Associated Programme on Flood Management.
7. Media Training with Antigua and Barbuda Meteorological Services
Following a request by media representatives in the inception meeting, a workshop was held that enabled journalists of Antigua and Barbuda to engage with the Antigua and Barbuda Met-Service. It increased understanding and know-how with regards to weather information provided, which will be beneficial in drafting messages and alerts to the general public. Topics covered were: 'What Is Meteorology', 'Media Alerts' and 'Understanding Weather Terms'.
8. Procurement of loudspeakers
District Disaster Coordinators were equipped with loudspeakers which will be used to disseminate warnings and organize first action in communities in St. Mary's North and St. Mary's South.