The core documents on the concept of Integrated Flood Management and its main facets, such as legal and institutional, environmental, social and economic aspects.
Flood Management Policy Series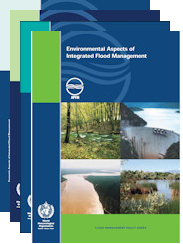 While the IFM Concept Paper is the core to conceptualize the approach of Integrated Flood Management, the Policy Series focus on various aspects of flood management policy, including economic, environmental, legal and institutional, and social aspects. Targeted on policy makers and flood managers, the Series aims to facilitate the implementation of IFM principles into development planning practice of river basins.
Short technical publications on specific aspects of Integrated Flood Management, meant to serve as a guidance for flood management practitioners.
Materials and condensed information for training in Integrated Flood Management.
Urban Flood Management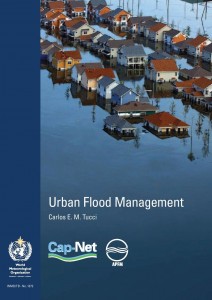 Urban Flood Management
2007, WMO No. 1372, Carlos E.M. Tucci
in cooperation with Cap-Net
A collection of case studies about the application of the concept of Integrated Flood Management from all over the world.
These documents were gathered during the early phases of the APFM.
A compilation of useful software to deal with specific aspects of Integrated Flood Management.
The list is not exhaustive and does not reflect our preferences, but includes only the tools developed by our Support Base Partners.
Assessment tools
RAPID LEGAL ASSESSMENT TOOL by TUHH: an e-learning platform to enable national experts to verify the compatibility of the existing legal frameworks with the concept of Integrated Flood Management and to initiate an appropriate reform process.
FLOOD RESILIENCE PORTAL by TUHH: a platform to help users to learn about their own flood risk and what they can do about it.
AQUEDUCT GLOBAL FLOOD ANALYZER by World Resources Institute: a web-based interactive platform which measures river flood impacts by urban damage, affected GDP, and affected population.
Flood Applications
Flood Map: This application lets you browse the world to see the risks of flooding in a given area based on water level elevations.