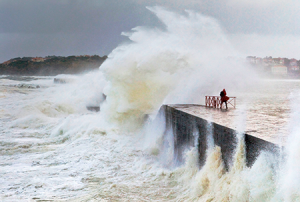 Why do not people always act as expected before, during and after flooding? Because their behaviour is highly influenced by their perception of risk, which may not coincide with the actual risk, as defined and calculated by scientists and decision-makers. To ensure the effectiveness of flood management measures, it is therefore essential, first, to understand how the way risk is perceived shapes the reaction of social actors and, second, to incorporate these factors into the planning process. Tool No. 25 seeks to support flood managers in this demanding task, by providing a theoretical explanation of the concepts of social risk and public risk perception. At the same time, it presents Social Impact Assessment as a possible methodology to feature these and other social aspects in flood management plans.
More information about the Tool.
Download PDF (English, French).
http://www.floodmanagement.info/wp-content/uploads/Tool25pic_195x131.png
131
195
Isabel Riboldi
http://www.floodmanagement.info/wp-content/uploads/apfmlogo2013small.jpg
Isabel Riboldi
2016-02-24 09:20:50
2016-02-24 09:20:50
APFM Tool No. 25 on "Public Perception of Flood Risk and Social Impact Assessment"