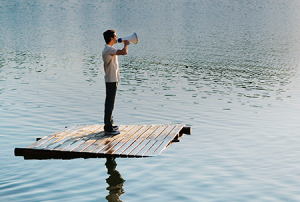 Decision-making is extremely complex. It has to take into account innumerable issues, needs and constraints from a variety of stakeholders. In this demanding process, it may happen that certain voices go unheeded, generating ineffective, patchy or detrimental policies. The development of an advocacy strategy by civil society would ensure an adequate consideration of its concerns and requests, creating a collaborative environment and promoting social empowerment. Additionally, it would build new channels of communication between science and policy, allowing the translation of scientific knowledge into concrete political action.
The APFM Tool No. 24 provides practical guidance for the implementation of advocacy strategies able to influence the flood management policies formulated by authorities. All steps, from the analysis of the problem and the decision-making space, to the identification of issues, audiences and alliances, the establishment of a workplan, and the planning of monitoring and evaluation, are described in detail and complemented by a list of additional recommendations.
Discover more about the Tool.
http://www.floodmanagement.info/wp-content/uploads/Tool24pic_195x131.png
131
195
Isabel Riboldi
http://www.floodmanagement.info/wp-content/uploads/apfmlogo2013small.jpg
Isabel Riboldi
2016-02-17 10:25:26
2016-02-17 10:28:43
APFM Tool No. 24 "Technical Assistance for the Preparation of an Advocacy Strategy"